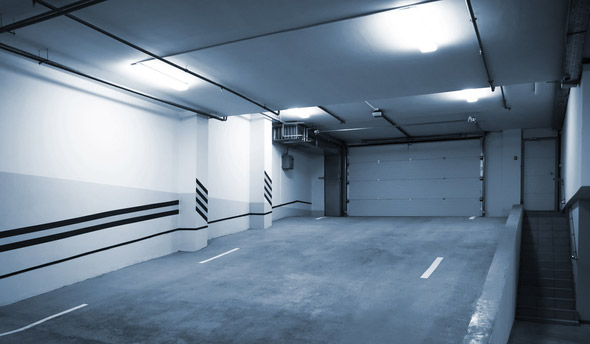 What Are the Various Types of Underground/Parking Garage Doors?
Underground garages offer a secure space for residents, visitors, employees and clients to park vehicles. It is important to ensure that the door to these facilities operates safely by bringing reliability, security and durability to your garage. 
We've compiled a list of the various types of underground and parking garage doors that are suitable for this type of application.
Steel Sectional Doors 
The commercial overhead door that lasts longer and requires less maintenance! Steel sectional doors are made with durable hot rolled steel, polyurethane insulation and installed with heavy-duty hardware to withstand higher stress loads. 
If your parking garage is under constant operation, a steel door with counterweights is an ideal solution.
Rolling Steel Doors 
Rolling steel doors are manufactured in either insulated or non-insulated versions depending on the temperature you are aiming to maintain indoors. These commercial overhead doors are constructed with metal slats to protect the building from intrusion or environmental threats.  
These doors work well in both fire-rated and non fire-rated applications. They can be supplied in a variety of colour and design configurations.
High Speed Rubber Doors 
High speed rubber doors provide you with unmatched durability and reliability. These commercial doors are the ultimate protection against door impacts, provide extreme durability and are effective at handling high traffic environments.
Rubber doors are a common and effective choice for condos, office complexes, maintenance garages and industrial buildings. 
Rolling Grilles 
Rolling grilles offer crisp, clean lines that enhance the aesthetic appearance of your garage entry. These overhead doors can come in aluminum or stainless steel. 
Rolling grilles are commonly and effectively used by high rise buildings, shopping malls and offices.
Sliding Doors 
An alternative to overhead doors is a sliding door. This is an ideal solution in a situation where there is limited overhead door space. This door option involves either sliding the door to one side or bi-parting the door to open on both sides. 
When installed with through-bolt construction, this overhead door performs consistently and with superior strength and durability. 
Swing Doors 
Similar to sliding doors, swing doors are another alternative to an overhead door. Swing doors are often chosen when there is restrictive overhead space; although, it's worth noting that a swing door requires sufficient floor space to allow for the door to swing open. 
Swing doors are also an ideal solution if you require a quiet garage door operation. 
Install a reliable overhead door with Begley Overhead Doors
Whether you find the rolling steel service door is the right fit or that a swing door suits your needs, overhead doors require quality installation to decrease maintenance and provide reliable operation. 
Begley Overhead Doors has over 60 years of experience and promises long-lasting, high-quality doors that require less maintenance and do a better job. Contact Begley at 905-846-6000 or email us at info@begleygrp.com to get the right overhead door installed.