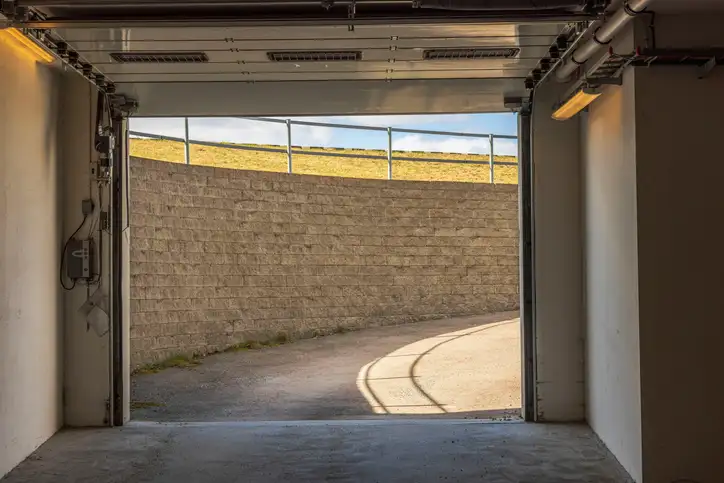 Commercial Underground/Parking Garage Door Q&A
Whether you refer to them as overhead doors, underground garage doors, commercial garage doors, or parking garage doors, it is likely that you have encountered one and it is likely that you may use it on a daily basis. 
Overhead doors are such a commonly found piece of equipment that we tend to forget the mechanisms behind them, even though they are an important tool. That's why we at Begley Overhead Doors are here to help you understand them a bit better. 
Begley Overhead Doors has compiled a few frequently asked questions regarding underground/parking garage doors. 
What overhead door should I get for my underground/parking garage?
There are a variety of overhead doors that can be selected for your commercial underground/parking garage, each with its own specific benefits and purposes. When seeking a new overhead door for your underground/parking garage, we recommend that you identify your key objectives for installing one. 
It is helpful to understand and communicate what are the main concerns you have with the building. For example, if you are a Toronto condominium building that requires an overhead door that can operate quickly and reliably over 200 times a day, you may want to consider a high speed rubber door. 
Have an expert understand your building needs a bit better to recommend the best type of commercial overhead door for you. 
If part of my overhead door is damaged, does the entire door need to be replaced? 
The level of repair depends on the extent of damage that is involved with your overhead door system as well as the type of door. It is important to have an expert inspect the degree of damages before making an assumption on how much repair is required. 
Additionally, while the damage may be apparent, sometimes there are other unseen factors that require commercial garage door maintenance or repair. Speak to an expert about your overhead door damages/repairment issues. 
How often should I get my overhead door inspected for damages and functionality? 
Every overhead door's performance, durability, and reliability are different. It is important to inspect your overhead door a minimum of once a year. However, if your commercial garage door is performing over a hundred times a day and is relied on any moment of the day, you may need to have it inspected more frequently. 
Explain the level of performance and type of overhead door you have to an expert for a more accurate and reliable estimate on how often you should have your underground garage door inspected. 
Begley Overhead Doors believes in a proactive approach to maintenance for any brand and type of overhead door to ensure your door's functionality is at optimal efficiency. 
I know what's wrong with my overhead door, can I fix my overhead door myself? 
Safety should always be a priority – you should never attempt to repair a commercial overhead door yourself. All the pieces that hold your underground/parking garage door together are under a high level of tension. If any of these pieces are released, they can be fatally dangerous. 
Always have an expert inspect your overhead door if you suspect there is damage or if the damage is evident. 
How do I buy an overhead door for my commercial building? 
Overhead doors are easy to purchase and install with the right team! Contact our reliable team at Begley Overhead Doors and we can help you determine the right overhead door for your underground/parking garage needs and install it. 
Get started on your overhead door needs with Begley Overhead Doors 
With over 60 years in the overhead doors industry, Begley Overhead Doors can be relied on for the best innovation and technical expertise. Get a high-quality commercial overhead door in Ontario with proactive maintenance with Begley Overhead Doors. 
Contact us to get started by phone at 905-846-6000 or email us at info@begleygrp.com to get the right overhead door installed.